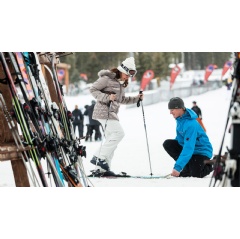 Winter Wonderland Magic is alive and well at the Four Seasons Resort and Residences Jackson Hole
With the snow already watering the valley and the temperatures dropping, Four Seasons Resort and Residences Jackson Hole is preparing for the winter season with new offers that are sure to delight customers and locals alike.
New immersive encounter with gray wolves in Yellowstone
Embark on an immersive experience this winter with the chance to see Yellowstone National Park's elusive population of gray wolves on a day trip offered in partnership with Jackson Hole Wildlife Safaris and Yellowstone Safari Company. The experience begins with a flight over the great Yellowstone Basin. Upon arrival at the park, learn about the history, movements, and behaviors of the gray wolf, with the chance to potentially see wolves in their natural habitat, in addition to moose, elk, bison, and bears. A portion of proceeds from each trip are donated to the Yellowstone Wolf Project and the Environmental Defense Fund (EDF), with the goal of preserving and protecting Yellowstone's gray wolf population and the local environment. The cost for the day with the wolves the adventure is $16,000 all-inclusive, for up to six people, and includes custom food and beverages all day. This experience must be pre-booked and full cancellation applies if canceled less than 30 days prior to departure.
For the love of chocolate
Hot chocolate reaches new levels of sophistication this season with a specialty hot chocolate cart available daily at the Ascent Lounge at the Four Seasons Resort and Residences Jackson Hole. Customers can choose from five different types of specialty chocolate, ranging from sophisticated Valrhona 70% Guanaja and Valrhona 64% Manjari to classic milk chocolate. The chocolate connoisseur will help guide customers to the perfect selection to complement their palate. Gourmet toppings include homemade marshmallows in a range of flavors – vanilla, peppermint, blueberry, and cinnamon fireball. For those looking for an extra kick, fiery additions are also available. Cozy up on one of the oversized sofas nearby, enjoy the crackling fire and sip to your heart's content.
Private retreats
Residential customers will be delighted this winter with specialized à la carte equipment. Enjoy a personalized après-ski evening in the comfort and privacy of one of the two, three or five bedroom residences. Guests are welcome to plan their own party with pre-selected food and drink options delivered and ready for the après-ski. Having fun has never been so easy.
For those who want to enjoy a leisurely dinner, the new meal plan option at the Four Seasons Jackson Hole brings guests closer together without all the prep work. From a curated menu, residential customers are invited to choose their meal, which is then chopped, measured and delivered ready to be prepared. In-house sommelier Anthony Puccia is also available to help you select the perfect wine pairing.
The library
The library offers a special private dining experience. Customize everything from decor and floral arrangements to seating and menu. Start with a champagne greeting or signature cocktail, and sit down to a personalized menu accompanied by wine pairings. Able to accommodate up to 16 guests, this intimate setting is the ideal place to celebrate a memorable meal with family or friends.
Ascension Lounge
Winter visitors to the Four Seasons Resort and Residences Jackson Hole enjoy slope-side access right from the resort door to premier skiing and snowboarding at Rendezvous Mountain. After a day on the mountain, the afternoon experience begins. Head toward Ascension Lounge for cocktails with a view and a taste of Wyoming's finest local whiskey, bottled exclusively for Four Seasons guests in conjunction with the distillery. The Old-school backcountry is the perfect winter sip to try the local spirit.
The Spa and The Salon
This winter season, the Spa presents the Chai Spice Body Scrub, combining warm notes of ginger, cinnamon bark and clove to awaken the body and stimulate the senses. This rich, full-body exfoliating scrub leaves skin feeling invigorated, refreshed and hydrated. After a Swiss rain shower rinses away dull cells, a silky blend of vanilla and sweet almond is swept over the body, while a revitalizing spice foot wrap quenches dry skin. The treatment ends with a complimentary refreshing botanical drink, combining allspice berries and cardamom with warm notes of two bark distillates and a bright, zesty finish. The 60-minute treatment sells for $260.
The Salon will offer a Chai Spice manicure and pedicure. These gently warming and stimulating sets blend exotic spices with vanilla, cardamom, black pepper and cloves to refresh the body and mind and promote circulation. Both treatments include a complimentary Chai Latte to enjoy. Enhance the pedicure with a vanilla spiced hot oil candle massage. The manicure sells for 95 USD, while the pedicure costs 115 USD. The candle upgrade costs an additional 40 USD.
Wellness and intention framework
Welcome to the Winter Solstice with the spa at the Four Seasons Resort and Residences Jackson Hole on Wednesday, December 21, 2022. Guests and local visitors are invited to join in a restorative yoga session beginning at 5:30 p.m., focusing on poses slow and conscious to emphasize inner connection and concentration. After yoga, enjoy reflection and intention setting, plus a complimentary seasonal hot drink. The cost is $20 per person, including yoga, intention setting, and a free seasonal drink.
With snow already blanketing the Tetons, now is the time to book a winter vacation. To book, contact the reservations team at 307 732 5600.
This news content was set up by WebWire's editorial staff. Linking is allowed.
Press release distribution and press release distribution services provided by WebWire.