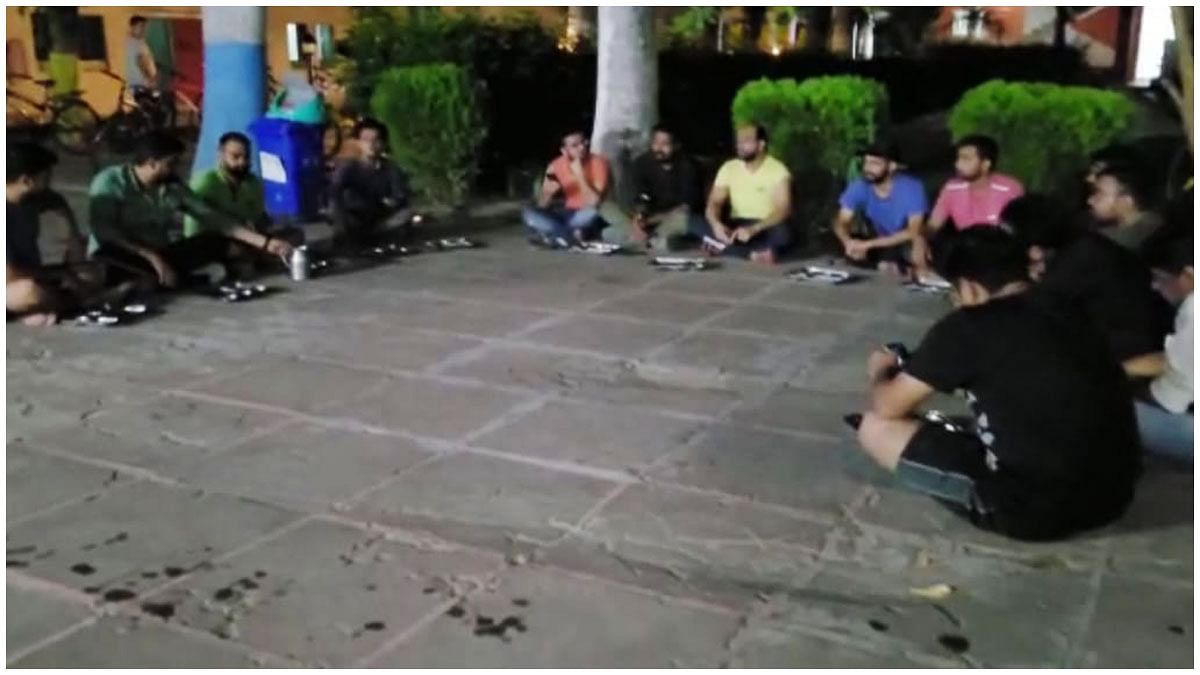 Students protest, want to cancel service, management reluctant
Dehradun: One of the nation's leading engineering institutes, IIT-Roorkee, is embroiled in controversy as a section of students objected to the recent addition of non-vegetarian foods to their menu. The students come from the Azad Bhawan hostel, the only hostel on campus, which only served vegetarian meals until last Sunday when non-vegetarian dishes were added to the menu as well. They have stopped eating at the hostel mess on days when non-vegetarian food is served.
The protesting students alleged that raw chicken meat was stored and cooked in the open in unsanitary conditions. They said no adequate separate resting space was provided for vegetarian and non-vegetarian students in the mess hall of the Azad Bhawan hostel, where the issue arose.
Students at the Azad Bhawan hostel demonstrated outside the mess hall for two days on August 24 and 25 against the introduction of non-vegetarian foods on their menu and demanded it be stopped immediately.
When ThePrint visited the IIT campus, students who were part of the protest claimed that management was trying to impose its "meal plan" without taking the necessary steps to allay their concerns. A PhD student and protester, from West Uttar Pradesh, said: 'Mess management was ill-prepared to ensure hygiene in the mess hall and kitchen. Raw dressed chicken was stored and cooked in an open kitchen, akin to vegetarian food. On top of that, the lack of proper prep space, lack of separate utensils for drinking water, and seating arrangements are also big issues.
He added: "We are surprised at the management's decision. Not even the inn's mess committee was told. We want the non-vegetarian catering service at the Azad Bhawan mess to be stopped until things are put in order.
"Students who do not eat vegetables outnumber protesters"
However, students who eat non-vegetarian food from the hostel said it was an unwelcome argument because the number of meat-eating students in the hostel is much larger than the protesting students. . "We were happy even when there was no non-vegetable food in the mess. But now things are going much better as the interests of hostel residents from different parts of India are taken into consideration. We were already getting eggs and chicken is the only addition to the menu. Why should there be an objection to the chicken when the eggs are already served? asked Kuldeep Gaur, an MTech student from UP's Azamgarh, and Abhishek Jadav, his friend, both Azad Bhawan inmates.
It is important to note that, until 2015, IIT-Roorkee had no provision for non-vegetarian meals at any of its 12 hostels. It was started after persistent requests from out-of-state students and faculty members. This resulted in the inclusion of non-negative meals – chicken and eggs – in 11 hostels twice a week. Vegetarian students had protested even when the non-vegetarian menu was first introduced, but management made the decision.
Chicken was introduced to the mess menu at the Azad Bhawan Inn last Sunday, August 21. Protesting students were told non-vegetarian food would also be served on Wednesday. The situation escalated on Wednesday as students took part in a protest with empty plates outside the hostel. While the situation was about to turn violent on Wednesday as non-vegetarian students raised objections to the protest, thankfully the situation was aired by older students.
On Thursday, the protesting students sent a letter to the Dean of Student Welfare Professor MK Barua, demanding that non-vegetarian food be stopped in the hostel and that a separate mess be created for it. They have threatened not to eat meals at the hostel on days when non-vegetarian food is served until their demands are met.
Nothing to complain about other hostels
Students from other hostels on the IIT campus told ThePrint that both meal systems are doing well in their mess. They have nothing against each other. "I am a non-vegetarian food eater, but my vegetarian roommates have no objection to this as meals are kept separate in the dining room. There is complete physical separation between us when dining in the mess," said Shoaib Rafique, an M.tech inmate of Jawahar Bhawan hostel in Jammu and Kashmir.
"I am not a vegetarian, but my fellow vegetarians have no problem with this as we are completely isolated in the mess. Even our plates are kept separate. The non-veg plates only came out twice a week when we were served non-veg meals. Precautions are taken to ensure that the plates are not mixed up after meals," said Abhishek Naidu, a final year BTech student from Govind Bhawan hostel in Andhra Pradesh.
Shri Harsha, a third year BTech student from Andhra Pradesh said, "I am a pure vegetarian but I have no problem with my non-vegetarian friends. Each individual has their choice of food. It is his right. I can't speak for other hostels, but my hostel has things in order and everything is peaceful."
---
Read also : BHU champions 'inclusive culture' as ABVP and 'students' protest VC presence at campus iftaar
---
"The problem will be solved", says management
Contacted by ThePrint, Dean Barua declined to comment on the matter, saying it would be resolved by management. "I cannot comment on the matter as we have authorized representatives and a media spokesperson. She alone is authorized to speak to the press. However, everything will work out easily.
Another institute official said, "There was a persistent request from a few non-vegetarian hostel students to include food of their choice twice a week. Management should also consider their concerns about people with non-vegetarian food preferences. The protesting students are mostly from MTech, PhD and MBA departments. They are mature enough to understand the decision made by management.
Sonika Srivastava, Head of Media Cell and IIT-Roorkee Spokesperson, said: "Management is looking into the matter and the outcome will be released to the press. It's hard to comment on the matter unless we are told by the director.
A group of student union officials stopped Barua on Friday and told him that management should reverse its decision but that the dean was reluctant.
Protesters decide not to eat messy
According to the protesting students, it was pointless to start non-vegetarian food at Azad Bhawan as the majority of students are vegetarians. According to them, even vegetarian students from other hostels preferred to dine at Azad Bhawan as there was no possibility of non-vegetarian meals.
A PhD student from Azad Bhawan said, "What's the harm if a hostel doesn't serve non-vegetarian food, especially when almost all the students are vegetarians?" According to him, the protesting students persisted in their decision not to dine at the hostel's mess on non-vegetable days until their demand was met.
(Edited by Siddarth Muralidharan)
---
Read also : ABVP, leftist students clash over 'chicken' in mess at JNU hostel on Ram Navmi, 5 injured
---