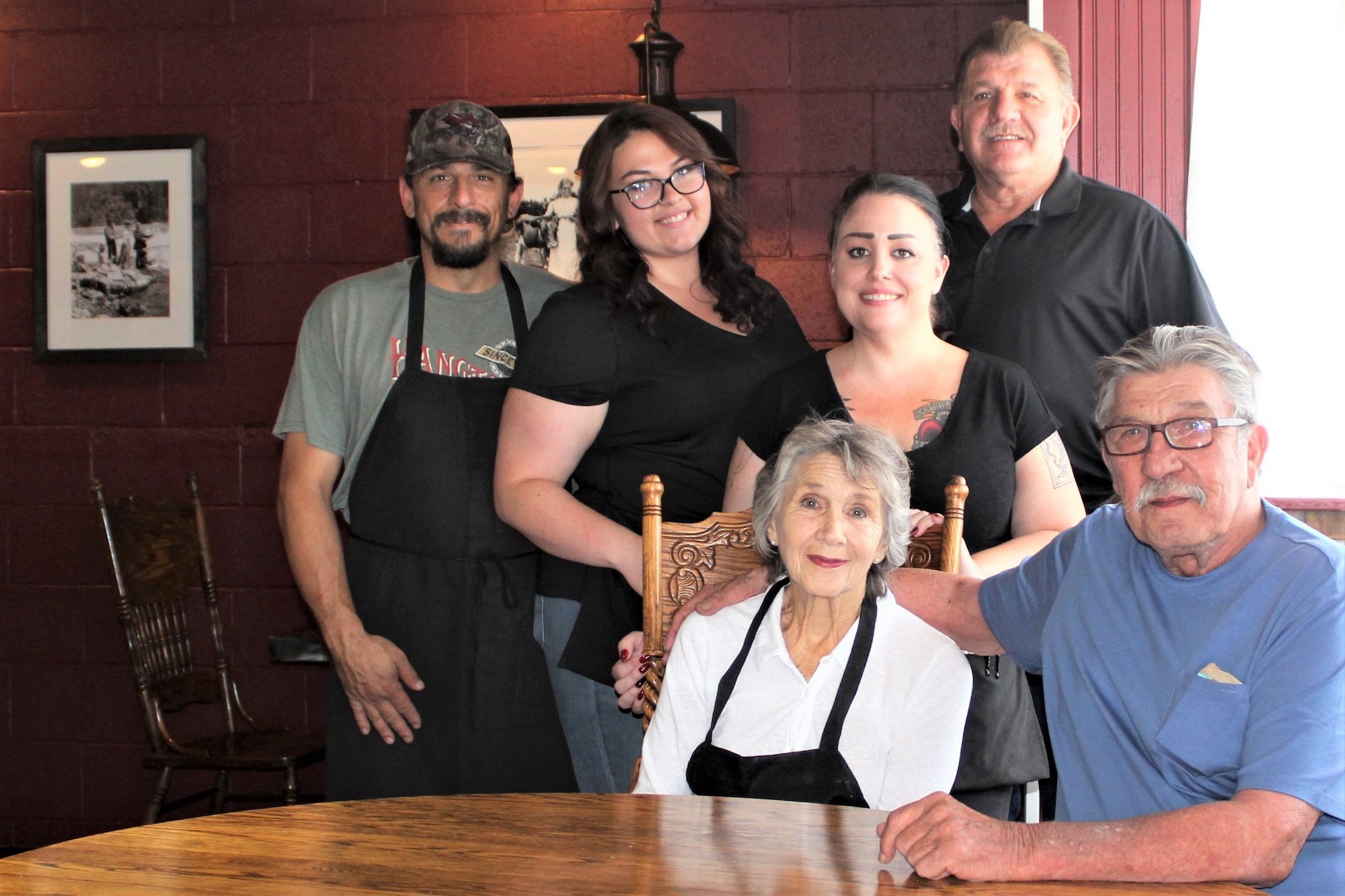 Restaurateur Joe France opens its 17th restaurant – Carson City Joe's
Meet the Carson City Joe team: Back row, left to right: Cook Rocky, server Jordan Meshberger, server Alicia Lorca, partner and nephew Bill Griggs. Seated: owners Bonnie and Joe France. Photo: Ronni Hannaman
Who is opening a restaurant at the height of the pandemic? Meet Bonnie and Joe France who optimistically opened Carson City Joe's on January 1, though there was no end in sight yet as to when restaurants might offer more than take out.
As a restaurateur his entire life, Joe has experienced the ups and downs of being a restaurant owner, so this challenge didn't bother him much. Bonnie, too, owned her own restaurant in Oregon and made the same trip with Joe who owned several restaurants in different states. Locals may remember the couple as owners of the Gold Canyon Steak House in Old Town Dayton for 17 years before selling it around 2004.
Carson City Joe's is Joe's 17th restaurant, which previously owned Virginia City Joe's, located next to the famous Bucket of Blood. When he lost his lease, he opened Joe's All American at Mound House, which he sold in November 2020. Since he no longer had a restaurant, Joe decided Carson City would welcome the family kitchen for which Joe's became famous.
Not only did the couple choose a difficult time to open their doors, but they also chose a somewhat difficult place. Locals will remember the restaurant at this odd place that once housed Sylvana's, a popular Italian restaurant that was more of a destination than an impulse stop.
At 1301 N. Carson Street, you can easily walk past this seemingly half-underground building. However, once you find Joe's, you'll often stop for some great old-fashioned food that will keep you coming back time and time again. Joe is currently deciding what to do to make the building more visible with better signage. There is disabled access from the parking lot and the back door.
Comfort food is the key to many stomachs. The menu is short and has popular dishes at a reasonable price, so it's easy to make a decision. The most popular dish is Icelandic cod fish and chips with enough fish to take a dog bag home to enjoy again.
The second most popular item is burgers of all kinds. We asked about the Mark Twain Burger as there isn't a restaurant in Carson City that recognizes Twain's importance to our history. But, that's another story for another time.
Joe's casual menu features 10 types of burgers. Like the man himself, the Mark Twain Burger is larger than life. You'll get half a pound of fresh beef hand-cooked to your liking, topped with Swiss cheese (just like Twain's stories full of holes), lettuce, tomato, onion, and pickles served with lots of fries. fresh or a homemade macaroni salad.
For those who prefer sandwiches, there are 14 varieties including the pastrami on rye, tuna or melting pancake, and the ever popular French dip with grilled onions and Swiss cheese. For those who love salads and count calories, there are six choices. Homemade chicken strips are almost as popular as fish and chips.
As you can see as you walk into the dining room, Bonnie is meticulous about cleanliness. Joe states that she "runs the place with an iron fist." The floors are polished to a high gloss, as are the chairs and tables.
The brown walls are freshly painted and feature some interesting photos. Bonnie spent a year researching the perfect tables and chairs to create a cozy atmosphere. It was not an easy task to find so many matching chairs. We would call the early American style of home furnishings.
The high back chairs are comfortable, and there is plenty of elbow room on the round tables. Once seated at the large table that comfortably seats six or eight or maybe ten, it feels like you are in someone's large kitchen.
Joe didn't know July was National Ice Cream Month. His new menu items this month feature treats that never go out of style: milkshakes, root beer floats in 22- or 32-ounce servings, old-fashioned sundaes, and waffle cone ice cream. . You can simply stop by anytime to satisfy your ice cream craving or complement your excellent meal with an ice cream treat. No fancy flavors – just vanilla, chocolate and strawberry. Simple, like the rest of the menu.
Now that Joe's has grown to include ice cream treats, it hosts birthdays or parties of all kinds. You can book the whole restaurant. With Christmas around the corner, this would be a great location for an intimate holiday party.
Yes, there is a nice bar filled with all kinds of bottles of all kinds of libations with beer and wine. As you walk into the restaurant, this cozy bar could be a welcome place to meet friends after work – if there was a bartender.
Joe and Bonnie face the same challenge that most restaurants and businesses face – lack of manpower – although both are proud of the current staff and rely on two special waiters, Alicia and Jordan. Bonnie, too, replaces when necessary and is currently training a new cook. And, just in case you're wondering, you can order a cocktail with your meal.
When Joe is in "residence" you can see his eyes focus on every plate coming out of the kitchen to make sure the food is prepared to his standards. Her simple mantra is "buy local ingredients to serve high quality cuisine; keep the restaurant clean; provide excellent service.
Once a reliable staff is found, Joe and Bonnie hope to be able to serve lunch and dinner seven days a week. Currently Joe's is closed Sunday and Monday, as are many of our local restaurants.
Stop by Joe's for a great all-American meal or call ahead for a pickup or delivery between 11 a.m. and 7 p.m. Call 775-350-7415.