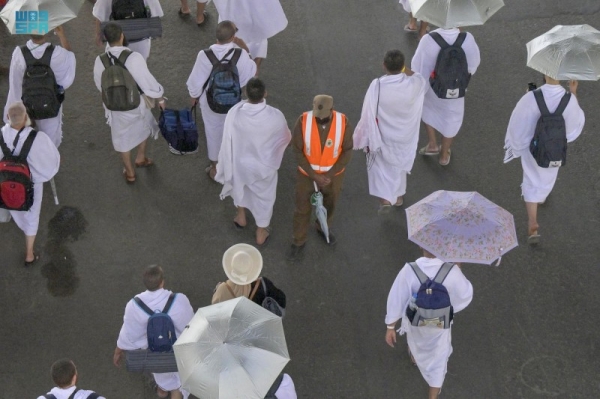 Pilgrims flock to Mina to spend the day of Tarwiyah
MINA – Pilgrims flocked early Thursday, 8 Dhul-Hijjah, to the holy site of Mina to spend the day of Tarwiyah (water supply) in pursuit of the prophetic Sunnah, in preparation to stand at the site saint of Arafat tomorrow, Friday.
.
The Kingdom's wise leadership provided security, medical and catering services and transportation to pilgrims to facilitate Hajj and perform their rituals with spirituality and tranquility, underscoring the importance that the government and service agencies strive to make every effort to ensure that their tasks are crowned with success during the Hajj Season.
It should be noted that the Ministry of Hajj and Umrah and all other relevant government and private agencies have completed their preparations to receive one million pilgrims in the tent city of Mina. They have finalized their operational plans for this year's Hajj season. Hajj security force commands have announced that they are ready to ensure the safety and security of pilgrims during the Hajj season.
Mina is the largest tent city in the world, spanning 2.5 million square meters and accommodating around 2.6 million pilgrims. Mina Tent City is one of the largest projects executed by the Saudi government and serves pilgrims during the Hajj season to ensure their comfort and safety. SG/ASP