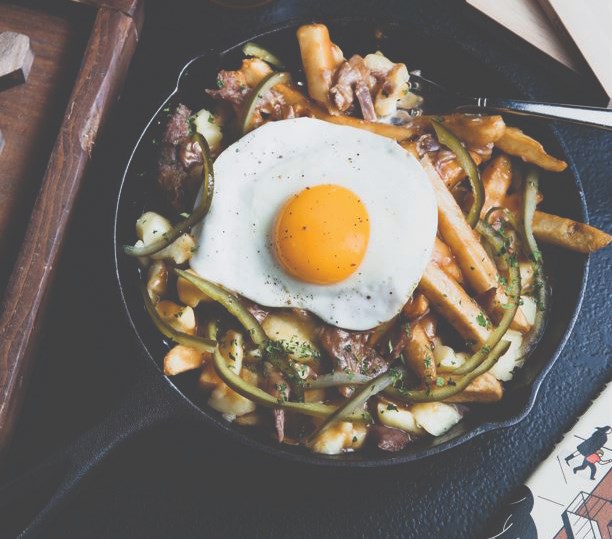 New Braidwood Tavern 'Not Your Regular Poutine' pop-up
For better or worse, poutine is widely recognized as Canada's de facto national dish. In its purest form, this trio of fries, gravy and cheese curds is as delicious as it is simple. But for the kitchen team at Braidwood Tavern at the Four Seasons Whistler, humble poutine is just a canvas for all kinds of culinary creativity.
"The whole idea was brainstorming with the team. We just wanted to put a twist on the classic poutine we have on the menu and bring it to Braidwood," explained Sajish Kumar, Executive Chef of the Four Seasons.
Not Your Regular Poutine is the latest pop-up concept to hit the Braidwood, where diners can sample the hotel's beloved staple, What the Duck Poutine, alongside three other new creations in sauce.
The limited-time menu draws heavily on the personal experiences and legacy of the Four Seasons kitchen team. There's Carne Joe, a nod to Joseph Abbruscato's Italian roots, which replaces the classic gravy with a rich beef stew piled on a bed of parmesan truffle fries topped with chunks of bocconcini cheese, cherry tomatoes , crispy bacon and a fried egg. Executive Sous Chef Michael Samsair puts his secret house sauce recipe to good use for Feelin' Hot poutine, smothering piles of paprika-dusted sweet potato fries and strips of hot fried chicken and Nashville jalapenos. Then there's the Tex-Mex-inspired Taco 'Bout a Poutine, which brings together an assortment of flavors and textures, with breaded fried cod, fresh avocado, cheddar cheese, salsa and classic sauce on a pile of curly fries. This is in addition to the aforementioned What the Duck poutine, a favorite among hotel guests, which features Brohm Lake duck leg with squeaky cheese curds and pickled poblano peppers on a serving of crispy fries.
"Every chef is behind a poutine, so they put their flavor into it," Kumar said. "Then we tried them and they were amazing."
For a country with an abundance of quality, natural ingredients in its backyard and one of the most diverse culinary cultures in the world, you'd think Canada could do better than poutine as the most recognizable dish. But to hear Kumar tell it, it's poutine's adaptability that has made it so popular in the Great White North.
"When I think of Canada and talk about poutine, it's a dish that you can eat for breakfast, lunch and dinner," he said. "It's a dish that fills the appetite from morning to night."
Kumar was hired as executive chef in December after nearly four years at the Four Seasons Whistler. Formerly Executive Sous Chef, Kumar brings more than two decades of experience to the position, including kitchen stints in India, the United Arab Emirates, Oman, Qatar and elsewhere in Canada.
" It was great. Whistler is amazing. What I tell everyone is the talent we're getting here is amazing," he said of his time in the role so far. " I love to cook. This is my passion. I love getting the most out of food and making sure our customers love it.
The Not Your Regular Poutine menu is open until May at the Braidwood Tavern. For more information, visit braidwoodtavern.com.