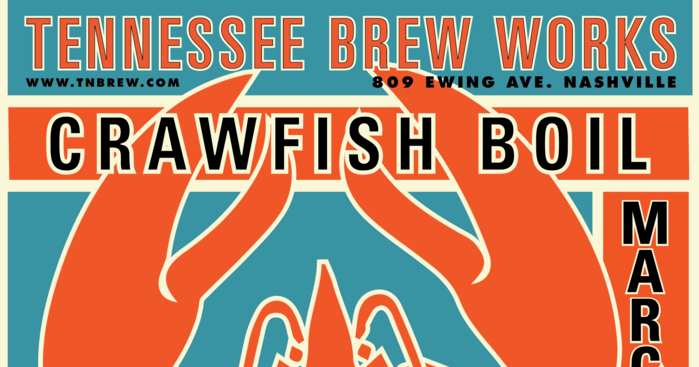 Monday Menu: Beer and Cookies Edition | Bites
We've reached a sort of harmonic beer convergence with three major brewing events taking place next weekend, along with other fun dining and bev opportunities right behind it. Saturday, March 5 is the link between local beer-related events, with three major simultaneous events.
The former is actually an all-weekend affair, with the annual rendezvous Tennessee Brew Works Crawfish Boil which will take place at the brewery at 809 Ewing Ave. March 5 and 6. The free event will feature live music all weekend and a ton full of Louisiana crawfish, andouille sausage, corn and boiled potatoes in huge pots filled with Hippies & Cowboys IPAs from TBW and available for purchase at cart for $18. If you just want the fixin-free mudbugs, they're $12 for a basket. Tennessee Brew Works beers will also be available for purchase along with wine, cocktails and cider to accompany your feast.
The outdoor, family-friendly, dog-tolerant event will feature live music from an impressive roster of talent:
Saturday March 5:
12 p.m.-2 p.m.: Charles Walker
2-4 p.m.: Sheriff Scott and deputies
4-6 p.m.: Florencia Rusiñol
6-8 p.m.: Erin Hazelrig and her Dolly Parton Tribute Band
Sun March 6:
12 p.m.-2 p.m.: Top House
2 p.m.-4 p.m.: Loving threads
4-6 p.m.: Ouro
The rain or shine event runs from 11 a.m. to 10 p.m. Saturday and 11 a.m. to 8 p.m. Sunday. Parking is extremely scarce for the anticipated crowd size, so please consider carpooling.
Also March 5 is Jackalope BreweryThe annual LOVEFEST of . This is when they celebrate the release of Lovebird, their hugely popular strawberry/raspberry wheat beer that always heralds spring. From noon to 10 p.m. at Jackalope's The Ranch taproom at 429B Houston St., Lovebird fans will celebrate with pints of the beautiful pink beer and live DJ sets from Digivinyl and El Gnashador.
Local vendors will also be on hand selling lovebird-inspired offerings, such as Hattie B's Hot Chicken Hot Chicken & Waffles with Homemade Strawberry Compote and Maple Whipped Cream, Cotton Candy Ivory Cotton BarLovebirds Infused Donuts Drunk Donuts Nashville as well as food from The grilled cheese dairy and No-Bake Cookie Dough.
Sweets and beer will also be there on March 5 at Black Abbey Brewery., where they will commemorate Beer & Cookies, the magical pairing of craft beer and cookies sold by a national organization of what BA calls "little human women". From noon to 8 p.m., they'll be offering a custom flight of four 4-ounce beers perfectly paired with some of your favorite cookie flavors. They will also be serving two unique beers crafted especially for this event.
Do not miss the opportunity to also taste cookies, city ​​vineyard has planned a special series of Scout Cookies and Wine Pairing Sessions March 9, 13 and 22. (Man, these scouts must have some really good lawyers to make all these people so nervous to even say their name.) Guests will enjoy four different wine and cookie pairings in The Lounge at City Winery and are encouraged to stay in the around for dinner and/or a show afterwards.
If you are more chocolate than cookies, on March 3 from 6 p.m. to 8 p.m., Yazoo Brewing Co.. welcomes the aces of confectionery Goo Goo Cluster in their Madison bar for a unique creation Goo Goo Cluster Event. Register in advance for a 30 minute time slot for the chance to create a unique version of cluster candy at one of their mobile chocolate making stations and stick around for a pint or two of the intriguing Yazoo/Goo Goo collaboration beer on tap. Buy your ticket in advance at the Goo Goo site for $35, and you'll receive the chocolate course, a "What a Cluster" pint glass, and a full shot of Yazoo/Goo Goo beer. It will be sweet!