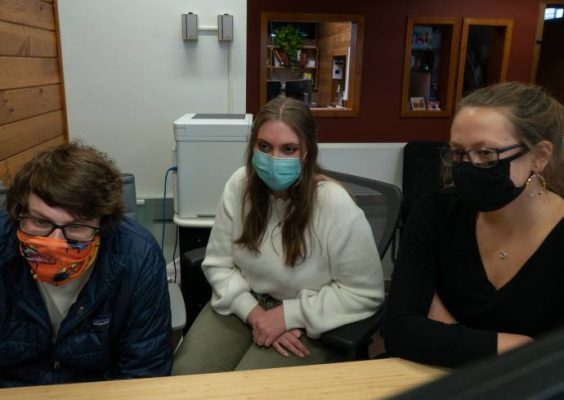 Internships help Falk College students envision a more sustainable campus and world
Before graduating and making an impact in the world, Falk College seniors Claire Rein, Tucker Kopp and Caroline King made an impact on campus as interns on the management team the sustainability of the university.
Rein, Kopp, and King completed an internship in the fall 2021 semester through the Sustainability Management Credited Internship Program which allows students to pursue projects that complement their major and explore their interest in sustainability.
"Our internship program is designed to allow students to explore their passions outside of the school environment while recognizing the general impact of sustainability across all core subjects," says sustainability coordinator Meg Lowe G' 18, which runs the internship program. "At the same time, each project a student works on helps us achieve our goals with an ongoing program or develop a new initiative on campus."
Rein's internship project focused on reducing plastic consumption, Kopp explored food insecurity, and King drafted a plan to implement more renewable energy on campus. Rein, who transferred to Syracuse in the fall of 2019, says her internship so far has been the highlight of her Syracuse experience.
"My internship made up for a lot of things that I missed out on (due to pandemic restrictions)," says Rein. "I have incredibly supportive and friendly supervisors, as well as other amazing student interns who made my experience so amazing! While I learned a lot doing my research project, I also gained both a professional network and great friendships."
Sustainability Management works with each student's advisor to ensure that the internship aligns with the student's academic goals, and a single internship can provide the opportunity to immerse yourself in multiple aspects of sustainability.
"We work closely with academic advisors to make sure we meet the needs of each program," says Lowe. "We hope that every student will come away with a deep understanding of sustainability in a way they can carry throughout their lives."
As the three students from Falk College finished their internship, they shared their projects and experiences with us. Here are their stories:
Claire Rein: prepare for success
Growing up in Syracuse just a few miles from college, Rein enjoyed singing, dancing, playing musical instruments and of course attending Syracuse Orange sporting events. She was drawn to Falk College's Department of Public Health because of its experiential learning – "the practical application of knowledge" which she says prepared her for a successful career in medicine.
"In my public health studies, I gained important knowledge about the American health care system, health care disparities and social determinants of health, and how to do scientific research," says Rein, who currently works as a patient care technician at St. Joseph's. Health Hospital in Syracuse. "I was able to work with a high school equivalency class, participate in research on PTSD, work in the Office of Sustainability Management for my internship, and so much more."
For her internship project on reducing plastic consumption on campus, Rein researched microplastics and their connection to public health, plastic recycling issues, and social justice issues surrounding the plastics industry. plastic. She determined that aluminum cans are the best alternative and suggested the University switch to aluminum packaging for its vending machines.
"While the goals of recycling are grand, the actual implementation doesn't match up," Rein says. "Often, recyclables become contaminated and never end up being recycled, which means they either go to landfill, incinerate, or end up polluting the natural environment.
"The industry was never designed to support such a large volume of recyclables," adds Rein, "so our lack of recycling infrastructure in America has meant that it's sometimes not economically worthwhile to to recycle."
As she looks forward to graduating, Rein says she wants to positively impact the healthcare sphere by improving the experience of patients who are often overlooked and vulnerable.
"This could be, for example, implementing policies within my practice to better educate care plans for people with low health care literacy or language/cultural barriers; focus care plans on the patient's individual needs, perspectives and abilities; or finding ways to prevent socioeconomic status from impeding the ability to receive excellent long-term care," says Rein. "I believe being a public health major at Syracuse has really set me up for success when it comes to achieving these goals."
Tucker Kopp: Ending Food Insecurity
Kopp grew up about 20 miles southeast of Syracuse in Cazenovia, where he started riding when he was just 3 years old. He also loved to cook and spent hours cooking with a friend who sadly passed away last year.
Kopp enrolled in college through InclusiveU, which provides opportunities for students with intellectual and developmental disabilities who want to experience college life in a fully inclusive setting. Kopp studied food at Falk College, where his passion for baking and food was matched only by his enthusiasm for making friends.
"I'm a people person," Kopp says, "I like meeting new people and making friends."
Kopp is in his internship year at InclusiveU, and with Sustainability Management he studied food insecurity on college campuses. As Kopp points out, the pantry at Hendricks Chapel is stocked with food and personal care items that are available free of charge to all students with a valid Syracuse University or SUNY ID card. College of Environmental Science and Forestry.
"The most important thing I wish people knew about food insecurity on a college campus is how to use a food pantry if you don't have enough money to buy food for yourself- even," says Kopp.
InclusiveU director Brianna Shults says Kopp grew 'personally and professionally' through his internship, which was a valuable part of his college experience and tied his culinary arts certificate to his career goals. .
"Having worked alongside Meg (Lowe) and her other colleagues, Tucker has a better understanding of where food comes from and how difficult it can be for some to access it," says Shults. "Tucker appreciated his opportunities to participate in other projects, such as the virtual cooking class. Her work at Sustainability Management has really given her a new perspective on how food is experienced and accessed outside of traditional restaurant services.
Kopp's education at Falk and his internship with Sustainability Management have given him options as he looks forward to his life and career after graduation.
"I want to do something with horses," Kopp says. "But if that doesn't work, I want to do something culinary!"
Caroline King: Quality health care for all
King grew up in the mountains of central Pennsylvania, where hiking and backpacking became her favorite pastime (she and her father still take several backpacking trips each year). She entered Syracuse as a nutrition student, but moved on to double major in public health at Falk and political studies at the Maxwell School of Citizenship and Public Affairs.
"As I got older, I started to learn more about health disparities and the challenges faced in the healthcare system by minority communities," King says. "I quickly developed a passion for being part of the transition to equitable and affordable access to quality health care for all.
"Also, public health includes environmental health, which was an added draw because my connection to the land is strong," King said.
For her internship, King researched renewable energy (RE) from a public health perspective. She looked at the sustainability of RE throughout its life cycle, from the sourcing of precious metals to the disposal of RE systems at the end of their life.
With the information she gathered, King drafted a policy to propose to the University to use more RE on campus.
"I wish people would take the time to think about their energy use, where it comes from and how much of an impact it has on the planet," King says. "It's easy to overlook your intake when the effects are out of sight, however, we need to be aware of the impact the things we do and buy have on others and the environment."
King is a student of the Renée Crown Honors program and a member of the National Honors Fellowship Phi Sigma Pi, where she has met students from a variety of disciplines who share her vision of being part of a team that makes a difference in the lives of others.
"I would like people to understand the privilege that they have to live the life that they have to be able to empathize with people of all types around them," King said. "As I grow in jobs, careers and life, I hope to be in a position where I can be part of a team that has a significant impact on a community, a population or the environment."