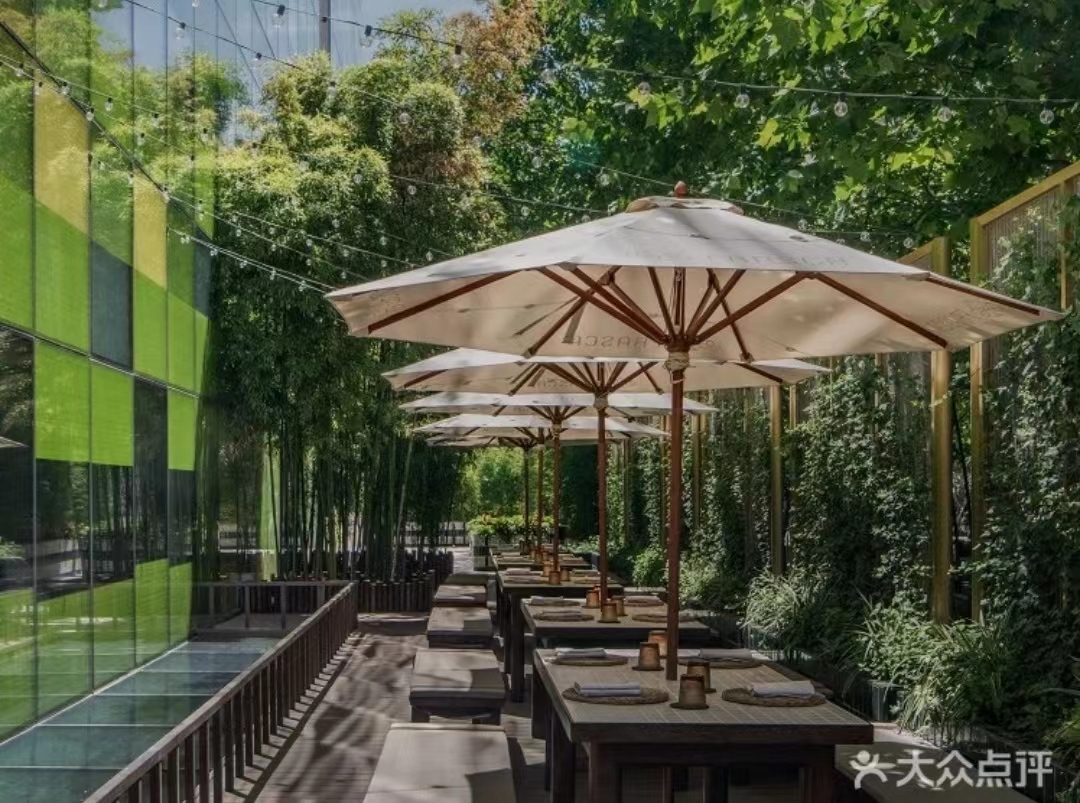 If you're looking for a great outdoor brunch, Frasca has you covered
One of my favorite weekend activities is going to brunch. I have a few favorite places that I go to quite often, namely The Orchid and Feast, but I also try to explore new places I've never been before. Ever since the weather warmed up and I discovered Frasca's lovely terrace, I've been dying to try their brunch and enjoy a bit of al fresco dining.
I decided to finally go to Frasca last Saturday, and despite not having blue skies, I had hoped for my friend and still chose seats on the terrace. Plus, even though it's located in the heart of the hustle and bustle of Taikooli, the clever use of trellises, bamboo, and other greenery creates a secluded garden feel.
The brunch menu is four courses and costs 298 RMB and two hours of free circulation, which includes Aperol and Campari Spritz, Negroni and House Wines, can be added for 188 RMB. You can also ask to order from the a la carte menu if you aren't hungry enough for all four.
With the impression that we were going to have fun and also, hey why not it's the weekend, we opted for the brunch menu and we also added the free flow (just drink three spritzes to get your money's worth anyway).
So what's included in the fixed menu?
To start, an antipasto dish made up of Italian classics such as charcuterie, artichokes and peppers, frittata and arugula. I was a little worried at first how much food it would be, as I hate food waste. However, we were reassured by the manager that it was all very small bites and not too much food at all.
Brunch-style, the next dish was uova or egg themed, with a choice of Japanese scrambled eggs on sourdough or spaghetti carbonara. I love a good Carbonara and chose this option and oh my god I was not disappointed. The spaghetti, which is topped with a runny egg yolk encrusted with breadcrumbs, might be the best carbonara I've had outside of Italy.
Then there was a choice of Main Course or Secondi which had various options such as Mini Pina (Roman Style Pizza), Roast Chicken, Sea Bass, Italian Sausage or Beef Tenderloin. Already feeling pretty full from the first two runs, I opted for the Sea Bass thinking it sounded like the lighter option.
The sea bass was served with bean sprouts, artichokes and tomato emulsion and was just amazing, the fish was beautifully soft and went well with the tomato and artichoke, as expected, it was also a good light meal.
To finish with dessert, there were two options: either a Zuppa Inglese (much like an Italian version of the English trifle) or Vanilla Gelato and Cream.
We decided to order both and share, because if there's one thing life in China has taught me, it's that sharing food is the way to go! The Alkermes Liqueur-soaked sponge packed an alcoholic punch and had a good balance of sweetness. The homemade ice cream, as you would expect from an Italian restaurant, was smooth, creamy and everything an ice cream should be.
With excellent cuisine and a pleasant atmosphere on the terrace, Frasca is a perfect place for brunch. We were also informed by the manager that in a few weeks a live jazz band will also be performing every weekend on the terrace for brunch.
The addition of live music makes Frasca's brunch feel like it's about to get better, although that might just be me, but the words jazz brunch immediately remind me of Brooklyn 99 (all the fans among our readers will know what I am talking about).
Frasca
1F, the opposite house, 11 Sanlitun Nan Lu, Chaoyang District
朝阳区三里屯街道11号三里屯太古里北区瑜舍酒店
READ: Embrace the warmer weather with these patios
Images: Katie Coy, venue courtesy, Dianping