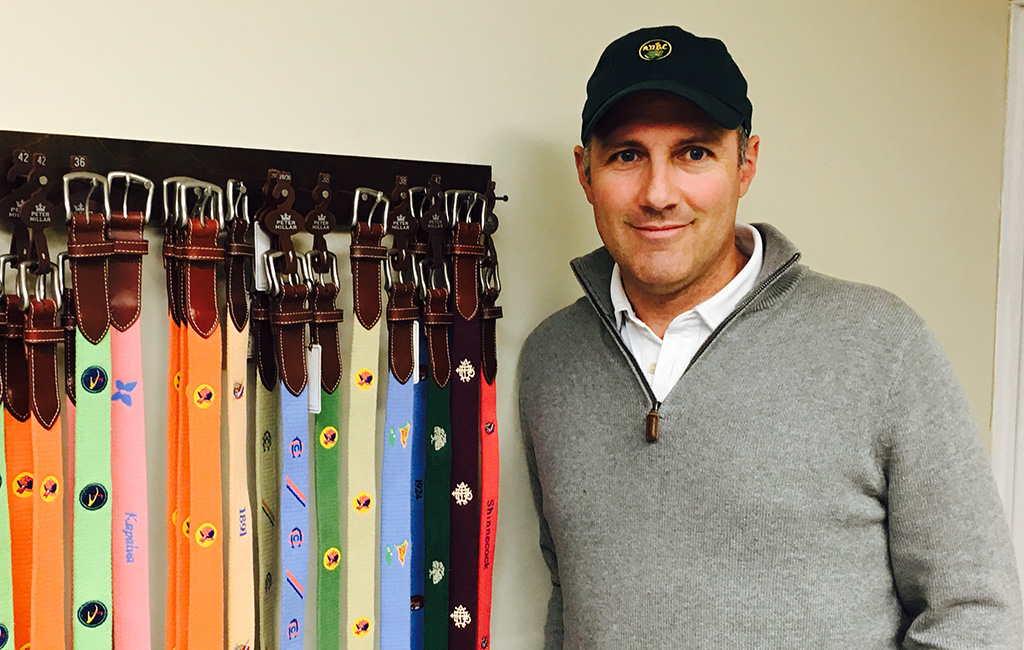 Henrico-based golf belt brand sold to company known for golf hats
Amid a boom for the golf industry as a whole, a local company that has carved out a niche in manufacturing golf belts has struck a deal with a longtime suitor.
JT Spencer, a Henrico-based company that makes belts embroidered with country club and golf course logos, was acquired earlier this month by golf hat giant Imperial and its parent company Paramount Apparel.
The deal, reached on September 1 for an undisclosed sum, allows JT Spencer to continue manufacturing belts from its West End headquarters at 2513 Grenoble Road. It is also allowing its 17 employees to stay, including longtime owners Steve DeWalle and Spens Woodroof.
DeWalle and Woodroof brought JT Spencer to Richmond in 2014, when they bought what was then a small New York-based brand from its namesake.
They've since grown it exponentially, in part by landing a licensing deal to manufacture belts for famed golf apparel brand Peter Millar. Its products are now sold at 85 of the top 100 golf courses in the United States, as well as college and university bookstores and golf stores in the United Kingdom, Asia, Canada and South Africa.
"We bought a small belt business in New York and since then we've grown astronomically," DeWalle said last week.
Although he wouldn't comment on revenue details, DeWalle said the company's revenue is up 5,900% from eight years ago. He said 2021 and so far this year have been banner years thanks to a COVID-induced boom for the golf industry. This helped several potential buyers knock on JT Spencer's door.
Talks with Imperial and Paramount Apparel turned serious in April.
"2022 has had an incredible start and we have been approached by the folks at Paramount Apparel International, Imperial's parent company," Dewalle said. "We just kept coming up with a lot of reasons why it made a lot of sense."
Among the selling points was that Imperial does for Peter Millar golf hats what JT Spencer does for belts. Among their common clients are local clubs such as the Country Club of Virginia, Kinloch, Hermitage and Willow Oaks.
DeWalle said the size of Imperial and Paramount was also attractive, bringing with it the resources JT Spencer needs to take it to the next level of growth. This includes taking tasks such as human resources, procurement and finance out of the hands of DeWalle and Woodroof.
"We were growing so fast and the business needed capital investment and management that was a little more sophisticated than what Spens and I were able to do with it," DeWalle said. "Paramount has over 600 employees. They have all the systems in place.
The new owner of JT Spencer has already visited his Henrico belt manufacturing plant and started looking for ways to increase production. The company manufactures, embroiders, packs and ships its belts and headwear from the factory.
"They have an operations manager who is an industrial engineer. He said, "I think I can increase your production just by making a few changes to the plant layout and adding a person here and there," DeWalle said. "The initial plan is to develop all the increased capacity here in Richmond."
It will also likely require additional square meters of land here. DeWalle said the company now occupies 5,000 square feet and is actively looking for a new 10,000 to 20,000 square foot facility.
David Shaffer, Imperial's senior vice president of sales who helped seal the deal with JT Spencer, said expansion is definitely part of the business plan.
"One of the cool things about this acquisition was that (JT Spencer) was already running a great business with strong growth. We think with what they've started and with our capacity, we're ready for expansion" , Shaffer said.
Shaffer said he and DeWalle have been longtime friends and he's been gently trying to steer DeWalle toward a deal for some time.
"I talked to Steve to groom him to sell us for years," Shaffer said. "I invited him to the Imperial in St. Louis a few years ago. I think he was probably doing reconnaissance and I was trying to get him to understand who we are and what we are.
Shaffer said of DeWalle: "He's a loyal guy with a lot of pride in his company and he should be, he's a hard worker. He wanted his business to be in good hands.
Imperial has been in business for over a century and Paramount has been around since 1929. Paramount acquired Imperial in 2012. Last year, Paramount was acquired by private equity firm CPC. Shaffer said it gave him extra fuel to develop JT Spencer.
"Right now our company is very interested in expanding product categories, making something other than hats," he said. "So getting into a belt category was natural."
For DeWalle and Woodroof, both 49 and both Virginia Tech graduates, the deal is validation for the career leap they took together eight years ago.
"I sold advertising for a travel publication. Spens was in accounting at Anthem," DeWalle said of their previous careers.
He added with a chuckle, "We didn't know anything about making a belt. We invented it as we went along