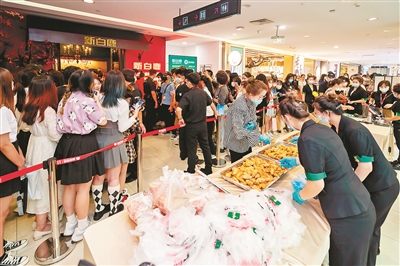 Hangzhou restaurant brand sets Guinness World Record
People line up for the salted egg yolk fried chicken wing dish at a Xin Bai Lu store in Hangzhou on September 19. [Photo/hangzhou.com.cn]
Hangzhou catering brand Xin Bai Lu set a new Guinness World Record by selling the most chicken wings in eight hours on September 19, local media reported.
From 11 a.m. to 7 p.m., Xin Bai Lu sold 23,046 chicken wings, propelled by its dish of salted egg yolk fried chicken wings, far more than its stated goal of selling 10,000 chicken wings.
"It was a bold move for us to take on the challenge," said Zhou Wenyuan, president of Xin Bai Lu and creator of the brand's salted egg yolk chicken wings dish.
With its crisp and delicious taste, the specialty dish was a national hit.
"Xin Bai Lu has been established for more than two decades and is very popular among Hangzhou residents, "Zhou noted. "However, as a traditional restaurant brand, we also have the pressure to keep improving."
He added that Xin Bai Lu innovates, while adhering to traditional Hangzhou dishes to meet the tastes of younger generations.
"Xin Bai Lu offers a new way for traditional restaurant brands to seek transformation," said Shen Jian, president of Zhejiang Dining Industry Association.
Several months ago, the restaurant brand launched a campaign to search for traditional dishes with an original Hangzhou flavor, with a price tag of 100,000 yuan ($ 15,465).
Media contact
Company Name: Hangzhou Municipal Government Information Office
Contact: Cai jingwen
E-mail: Send an email
Telephone: 0510-68559077
Country: China
Website: http://www.ehangzhou.gov.cn/