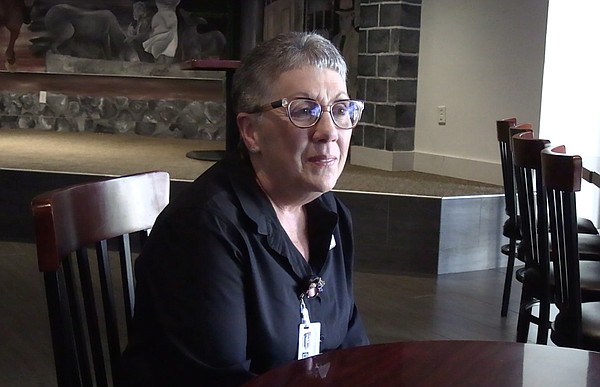 Get the "Inside Track" on the hotel grill
Inside Track Grill & Sports Lounge may not be as well known as The Hotel Hot Springs & Spa, but the hidden gem is right off the hotel lobby.
The restaurant opens almost daily at 4:00 p.m., but is open for lunch on weekends.
"We are only open for lunch on Saturdays and Sundays," said Carla Brown, the restaurant manager. "We are open from 11 a.m. to midnight past Saturday and until 10 p.m. on Sunday. But the rest of the time, we are open from 4 p.m. to 10 p.m., and the restaurant is open every evening until 10 p.m. We have live entertainment weekends, usually local musicians.
Chef Derek Nowell said he had asked the hotel's general manager to let them open for lunch on the weekends and cooked up specials each weekend to help draw crowds.
"We haven't been open for lunch since COVID so I finally spoke to the boss about last football season," he said. "I said, 'Come on, man. We have to open for lunch. You know, try to get football traffic here. So I ran specials every weekend to try and get people. Saturday is fine. The varsity ball is fine. Not so pro (football). We're not getting a lot of turnout for the NFL.
Video not playing? Click here https://www.youtube.com/embed/H2MzWY1qn0A
Brown said the hardest part of the job has been coping with the COVID-19 pandemic and its aftermath. With over 50 years in the hospitality industry and 46 years as a bartender, rebuilding the clientele has been difficult.
"It's getting better all the time," she said. "We're finally letting it be known that we're here. I've known this place since it opened as a Hilton in 1989. Well, a lot of people will come in here and they'll drive by every day, and they're like, ' 'Wow, when did you put a bar and restaurant?'"
Brown said Nowell does a great job of keeping the menu fresh with seasonal items.
"We have a terrific chef, and he changes the menu and kind of keeps it going with seasonal things," she said. "And the price is really reasonable, and we have everything from appetizers to sandwiches to appetizers. And since our desserts are homemade. … We make very little, he makes almost everything himself there."
This isn't the first time Brown and Nowell have worked together. The couple both worked at the Embassy Suites two decades ago.
"I worked with him 20 years ago at the embassy," she said. "And then he left here for a while and went to Florida and worked on the coast there. … He came back here maybe three and a half years ago, and he's been here ever since.
"And he does a great job. We all love him. The food is good enough that we pay full price and eat off the menu. That's how good the food is."
Q&A with Carla Brown
Here are excerpts from Carla Brown's interview, presented in Q&A format:
Q: Favorite food?
A: If I had my druthers, probably German. I like the cabbage rolls and the jaeger schnitzel. I don't do sausages and 'kraut'. I like food. The heavier, the better.
Q: Go to comfort food?
A: Probably Mexican.
Q: Favorite restaurant?
A: If I go to eat here, I usually go to the German restaurant, or I stay here. We have so many restaurants in town that it's so hard to choose where to eat.
Q: Your favorite thing about the Hot Springs area?
A: I like tourist turnover. You meet someone new all the time. I like being attached to the convention center. I worked at the embassy for about 18 years, and I've been here since I left. So I've established a lot of relationships with a lot of people from the conference who come next door.
Q: Any advice for someone new to catering?
A: Start from the lowest position in the kitchen and work your way up, because that's the best way to learn everything. You know, it's convenient. You can take courses, and you can have degrees and all of that helps, but you don't learn that on the job until you actually do it.