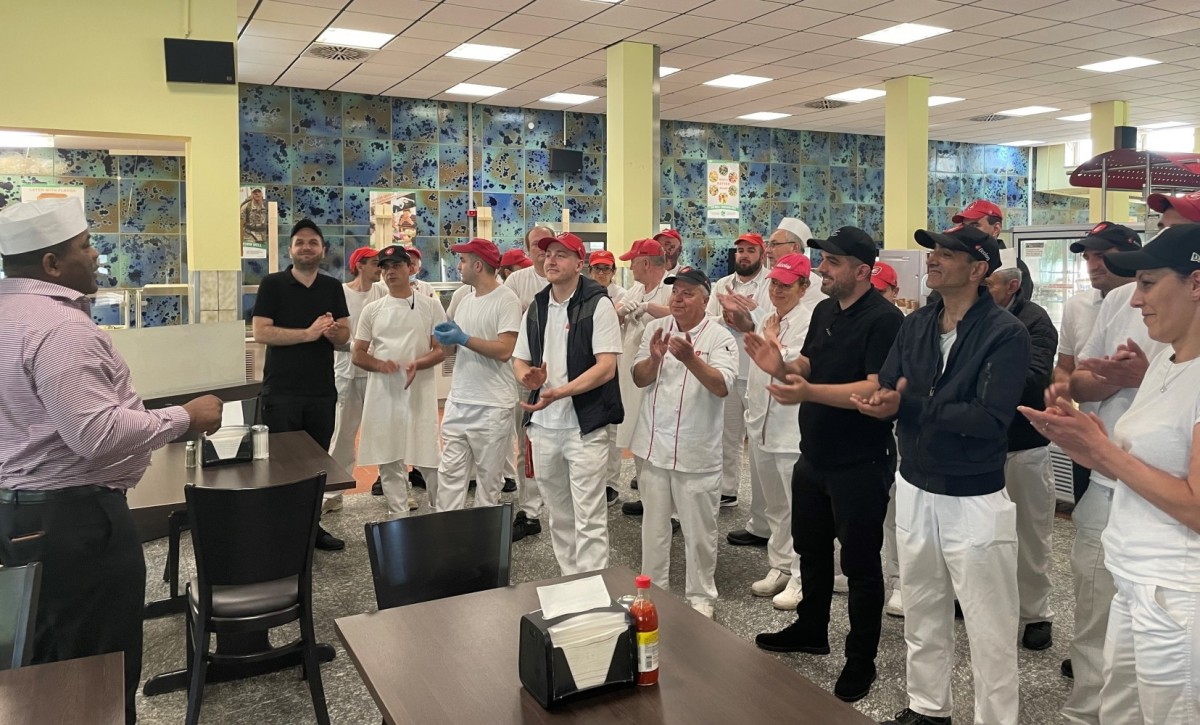 Food Service Manager LRC Ansbach: Class I Top Army Supply Chain System For Good Reason | Item
Name: Jerome Young
Profession: Installation Power Service Program Manager
Assigned: Ansbach Logistics Readiness Center, 405th Army Field Support Brigade
Site: Barton barracks, Ansbach, Germany
To live: I have been working as the LRC Ansbach Facility Food Service Program Manager for about 2.5 years. Prior to joining LRC Ansbach, I was Deputy Director of Procurement for LRC Bavaria in Grafenwoehr, Germany for over three years. Prior to that, I was a Supply Systems Analyst, Food Service Specialist, Assistant Director of Procurement, and Quality Assurance Assessor at LRC Fort Knox for approximately nine years.
Other service: I served 22 years and eight months in the military as a Senior Food Service Specialist and retired as First Class Sergeant.
Hometown: Manhattan, New York
Family: I have been married to my wife Christina for 21 years and have seven children and seven grandchildren.
Question: Can you explain to us your responsibilities at LRC Ansbach?
A: I make sure the restaurants in my program get everything they need to operate efficiently. This is about making sure their budgets are set and in order so that we can upgrade kitchen equipment when needed and purchase all necessary supplies. I oversee the supply management process, perform inspections at each of the facilities to ensure facility managers and staff are operating in accordance with all policies and regulations, and speak with food facility managers and work hand in hand with them on a daily basis. In addition, I act as a liaison between the restaurants and the management team of the US Army garrison in Ansbach, as well as with the units and soldiers they support – those who dine in the restaurants. I am also the liaison between the army food inspectors and the catering facilities.
Question: Why are the LRC Ansbach food service mission and USAG Ansbach catering facilities so important?
A: Throughout my military career – I joined the military in 1982 – until now I have worked in the restaurant business, and the livelihood – also called class I – is at the top of the class system of the military supply chain for good reason. This is the most essential. Providing the proper nutrients and a well-balanced diet to our fighters keeps them strong and able to carry out their missions. It is extremely essential that the soldiers who come to our restaurants receive very good meals, because it helps to punctuate their day. We support the garrison as well as many important tenant commands, including the 12th Combat Aviation Brigade and the 5th Battalion, 4th Air Defense Artillery Regiment – that's a lot of soldiers.
Question: What do you like about your job and what motivates you?
A: I really like supporting the soldiers. I was a soldier once, so soldiers are near and dear to my heart. I always emphasize teamwork and collaboration, and I always try to congratulate the people who work in the two restaurants in my program, because they deserve it. They are an excellent team of over 100 local national contractors, civilian employees of LRC Ansbach and soldiers from the 221st Field Feeding Company. They do a phenomenal job every day. I will make corrections if necessary, but I will also congratulate them whenever I have the opportunity.
LRC Ansbach and 405th AFSB: When it comes to providing day-to-day installation services, LRC Ansbach leads, manages and coordinates a variety of operations and activities in support of USAG Ansbach. LRC Ansbach reports to 405th AFSB, which is assigned to the US Army Sustainment Command and under the operational control of the 21th Theater Sustainment Command, US Army Europe and Africa. The brigade is headquartered in Kaiserslautern, Germany, and provides corporate materiel support to US forces throughout Europe and Africa – providing theater support logistics; synchronize procurement, logistics and technology; and leveraging the US Army Materiel Command's materiel business to support joint forces. For more information on the 405th AFSB, visit the official website at www.afsbeurope.army.mil and the official Facebook site at www.facebook.com/405thAFSB.