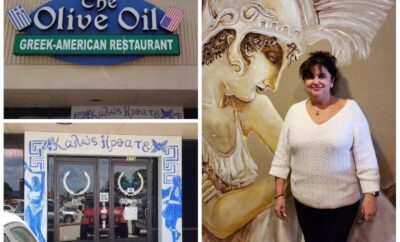 Eat Local: The Olive Oil Restaurant
Olive Oil Restaurant, a family owned Greek restaurant located in The Woodlands, TX, has been serving authentic Greek cuisine to our community since 2008.
The name
The Huliaris family inherited the name, The Olive Oil, from the owners of the original restaurant. In Greek culture, there is a lot of extra virgin olive oil in their everyday cooking, which made the name perfectly fitting, so the Huliaris saw no reason to change it.
Whether you go there for lunch or dinner, you will be delighted with their extensive menu. Olive Oil features belly dancer, Greek dancing, and plate breakers on Friday and Saturday nights. Opa! It is an excellent place for a casual family dinner or even a romantic evening, in a relaxed atmosphere.
Traditional Greek favorites are not to be missed; they taste like someone's Greek grandma who's back in the kitchen, cooking up a storm! But while Greek cuisine is obviously their specialty, The Olive Oil offers so much more, like burgers, fish and chips, Fettuccini Alfredo, pork chops to name a few of their non-Greek choices.
The story
Olive Oil Restaurant, a family-run Greek restaurant located in The Woodlands, Texas, has been offering authentic Greek cuisine since 2008. Freshly prepared Greek cuisine has been gaining a following since the day it opened. Owned by Toula Hulliaris and her husband, they bought the restaurant from the original owner in 2010 who decided to move back to Greece. The Huliaris family saw the potential the restaurant had for The Woodlands region. We asked Toula what part of the menu are now family recipes, she replied "All. We changed all the recipes when we bought the restaurant and trained our chefs on our expectations for fresh ingredients, sauces and homemade dishes.
The whole family participated in the restaurant, including daughter Marianna and son George. Toula said: "We love working with our family! We treat everyone who enters the restaurant like family, whether staff or customers.
Speaking of family, they all also have another concept called The Omega Grill, in the same center three doors down. (see Hello Woodlands article on The Omega Grill at this link)
Toula contributes to its success by giving its customers what they want as consumers. Good food, service, quality and hospitality with a good price.
Community
Toula and her family believe in helping the local community around them and working with area schools and churches.
They also help raise awareness for parents of drug-addicted children for an organization called Marisa's Purpose by donating to their fun run and selling basketballs. Recently, they helped Nick's Local Eats Drink For Charity by donating money to the Montgomery County Food Bank.
Family favorites
Tula: Moussaka – Cooks layers of eggplant, potatoes, Greek cheese, ground meats, Mediterranean spices and Roma tomatoes topped with bechamel sauce
Ready: Octopus starter – Tender octopus marinated in olive oil, lemon and oregano and served with toasted pita bread. I like it as a meal with a Greek salad on the side.
Marianna: I love all of our appetizers, so definitely the Bekri Meze sampler – Loukaniko, keftedes, calamari, tyropita, spanakopita, dolmathakia, olives, kefalograviera cheese, tzatziki, hummus and pita.
George: Vegetarian Moussaka – Baked layers of potatoes, eggplant, zucchini and squash topped with marinara sauce, mozzarella cheese and bechamel sauce
What to order
Appetizers:
Saganaki – Kefalograviera cheese flambé pan-fried with ouzo and lemon (at the table flambé), and served with pita
Dolmades – Three (3) vine leaves stuffed with ground beef, rice and spices; topped with egg-lemon-dill sauce
La Grande Ourse – The four homemade dips served with grilled meats (hummus, tzatziki, taramosalata (caviar dip) and eggplant).
Soupe: Chicken Orzo And Vegetable Soup – Our famous chicken soup with lemon, carrots, celery and orzo pasta
salad: Traditional Greek Salad – Lettuce, tomatoes, cucumbers, onions, peppers, Kalamata olives, feta cheese, capers and our famous homemade Greek dressing. Excellent with optional gyro meat.
Greek specialties:
Zeus platter – Moussaka, pastitsio, tyropita, spanakopita, gyro meat, dolma, tzatziki, pita bread, green beans, chicken souvlaki and oven roasted potatoes.
L'Athena – Lamb Souvlaki, Lamb Chop, Beef Souvlaki, Chicken Souvlaki, Pork Souvlaki and Shrimp Souvlaki and choice of a side.
Beef, Lamb & Pork:
Beef Souvlaki – Two (2) skewers of grilled beef, onions and peppers. Served over rice with choice of side.
Lamb Chops – Four (4) lamb chops marinated in olive oil and spices, then grilled, served with your choice of side
desserts:
Galaktoboureko – layered filo pastry with custard topped with honey and cinnamon syrup
Ekmek Kataifi – shredded filo pastry cake with matcha pastry cream and pistachios
Chocolate Baklava Tart
The bar:
The beer and wine bar offers an exclusive selection that you will be hard pressed to find elsewhere! If you're new to Greek cuisine, the friendly staff will guide you along the way and help you select items that match your unique tastes and beer or wine to pair with your meal.
wrap it all up
What you will find at The Olive Oil is a family atmosphere, knowledgeable and welcoming staff, and authentic Greek cuisine with something on the menu for everyone. The Olive Oil Greek Restaurant also has an extensive lunch menu, where you can stop for a quick gyro sandwich, salad, burger and, of course, Greek dishes at reasonable prices.
Our last question is always… What are the 5 words to describe the Greek restaurant with olive oil?
Toula said: "Family, authentic, welcoming, healthy, tasty."
Olive Oil Greek Restaurant is located at 373 Sawdust Rd, Spring, TX 77380. For more information, call 281-367-0114 and visit their website at https://theoliveoilrestaurant.com/.
Nick Rama is a food writer, Hello Woodlands contributor, and shares his dining experiences on Nick's Local Eats at NicksLocalEats.com and the TX BBQ, Burgers and Brew Facebook page. Nick enjoys helping the small business owner, supporting his community by raising money for food banks, and planning tasting events with local and family restaurants.