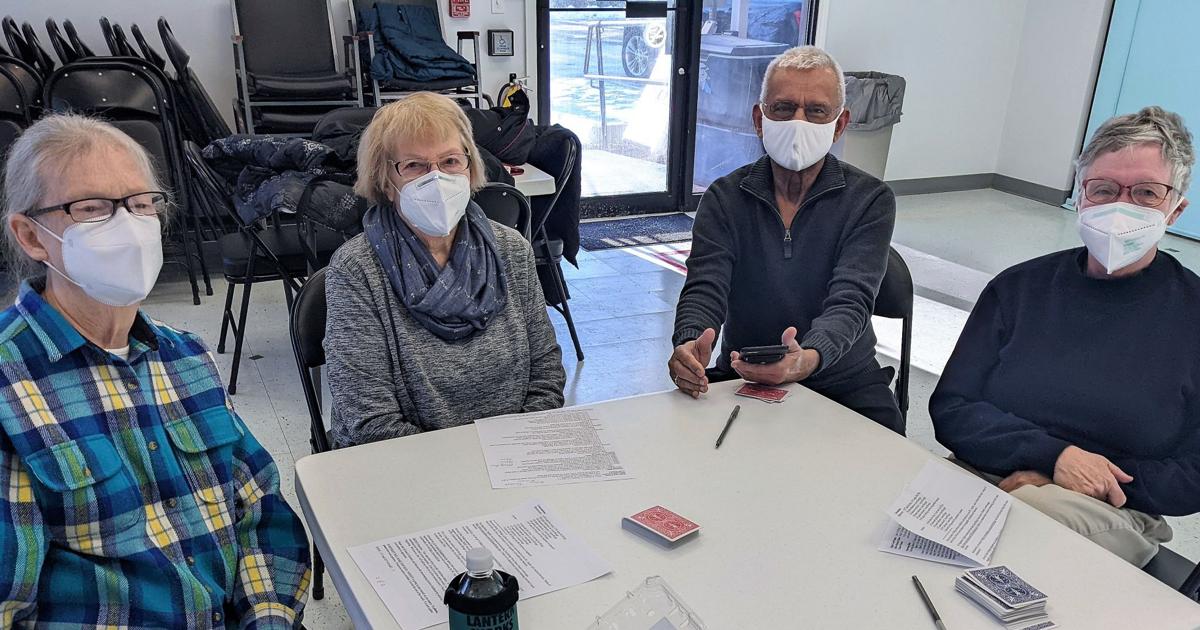 Discover Valentine's Day Traditions in the Boston Area | Around the city
Join us on Wednesday, February 9 at 4 p.m. for a program by historian Anthony Sammarco that will give us insight into the history of Valentine's Day traditions over the years in and around Boston. From ancient Rome with the pagan festival of Lupercalia to today's worldwide celebration of Valentine's Day, we revel in the history and evolution of Valentine's Day through the centuries as a day of 'love. Today, Esther Allen Howland is honored with the nickname "America's Valentine's Mother", with many citing her small card factory as the start of the multi-million dollar industry. Register in advance for this program and we will reserve a place for you.
DIGITAL VACCINE CARD
My Vac Records is the new tool for people who have been vaccinated in Massachusetts to access their vaccination history and generate a digital COVID-19 vaccine card, which would contain vaccination information similar to a card. CDC paper. Sign up for a digital vaccine card information program at the senior center at 2 p.m. on one of the following Mondays in February: February 7, 14, or 28. This program will teach seniors how to get a copy of their digital vaccine. card. Please choose a date to register in advance and bring your cell phone or other smart device with you to the program.
ELDER SUPPER
Our new seniors dinner program will take place on Wednesday, January 26 at 4:00 p.m., with dinner served around 4:30 p.m. and this new program will emphasize a unique, high quality catered meal. The cost is $4 per person. We hope you will join us for an evening with friends. The January menu is chicken broccoli ziti with pesto vegetables, Caesar salad and rolls. You must register in advance with your payment.
CRUNCHY AND QUOTES
Join us on Wednesday, January 26 at 2 p.m. for an exciting event sponsored by Brightview Senior Living. Enjoy a homemade apple crisp while testing your knowledge of notable quotes. Do you know who said "A penny saved is a penny earned?" Call us to register for the event and find out the answer!
REGISTER FOR THE 2022 TRIP TO THE MOHEGAN SUN
It's a new year, and why not travel with us and try your luck at Mohegan Sun Casino on Thursday 31st March. Our coach will depart from St. Mary's parking lot, 58 Carpenter St., at 8:30 am. Cost will be $35 per person for Foxboro residents and $37 for non-residents. Residents can register with their payment. Non-resident registration with payment will begin on Wednesday, February 2.
TRAVEL WITH US AT THE NEWPORT PLAYHOUSE
Join us on Thursday, April 21, when we head out to spend the day at the Newport Playhouse. We'll travel by coach and depart from St. Mary's parking lot, 58 Carpenter St. This favorite travel location includes a home-cooked plated lunch, followed by a performance of the Broadway comedy "Social Security" and ending with a fun cabaret. The cost for Foxboro residents is $120 per person and for non-residents the cost is $125. Residents can register with their payment. Non-resident registration with payment will begin on Wednesday, February 2.
HEARING HEALTH
On Wednesdays, January 26, February 2, 9, 16 and 23, hearing clinics will be offered from 1 p.m. to 3 p.m. This program is free and offers hearing screening, earwax removal, cleaning and service of hearing aids by appointment. Call ahead to schedule a 20 minute appointment.
BRIDGE COURSES
Bridge is a card game that is played all over the world, in person and online. If you've always wanted to learn to play bridge, this is your chance. Classes will take place on Tuesdays from noon to 3 p.m. Sunil Trivedi is the instructor and he will introduce the game to interested new players. Please register in advance.
MEN'S BREAKFAST
Our breakfasts for men, prepared by Roche Brothers, are back at the senior center. Join us Thursday, January 27 at 9 a.m. for a hot breakfast this cold winter season. The cost is $3 per person to be paid when you reserve your place.
REPRESENTING. JAY BARROWS OFFICE HOUR
Join State Rep. Jay Barrows at the senior center on Monday, January 24 from 9 a.m. to 10 a.m. for a panel discussion as well as a question and answer session. He will be at the senior center on the fourth Monday of each month at 9 a.m. Register in advance.
Q&A WITH THE CITY MANAGER
Join us in conversation with William Keegan, the Town Manager of Foxboro, Wednesday, January 26 at 12:30 p.m. He will provide updates on municipal procedures and, time permitting, a question and answer session. Call us to register.
DOWN TO EARTH WITH ZAC EFRON
Actor Zac Efron travels the world with wellness expert Darin Olien in a Netflix travel show that explores health and sustainable lifestyles. This 8-episode series will examine how countries around the world view a healthy lifestyle. The series will air weekly at the senior center from Tuesday, February 1 through March 22 from noon to 12:45 p.m. If you would like to join us for any or all of the "Down to Earth" episodes, please register in advance.
HISTORY 101
Join us at 10am on Fridays in February to watch the Netflix series "History 101". Infographics and stock footage offer succinct history lessons on various scientific breakthroughs, social movements and world-changing discoveries. On February 4, Episodes 1-3 will focus on Fast Food / The Space Race / The Rise of China. On February 11, the subjects of episodes 4 to 6 are Plastics / Oil and Middle East / Robotics. And on February 25, episodes 7-10 will feature the topics of Feminism/Nuclear Energy/AIDS/Genetics. Sign up if you want to join us for any or all of the History 101 programs.
WWII IN COLOR – ROAD TO VICTORY
On Thursdays, February 3 to April 7, from 11:45 a.m. to 12:45 p.m., we'll be showing Netflix's new UK docuseries, WWII In Color – Road to Victory. This 10-week series will feature captivating historical footage and expert commentary giving in-depth insight into the main wartime characters and key turning points of WWII. Register in advance to reserve your spot.
THE BEATLES: GO BACK
We will once again present the new 3-part documentary series, "The Beatles: Get Back", at the senior center. Directed and produced by Peter Jackson, this series covers the making of the Beatles' 1970 album 'Let It Be'. Footage in this series was originally captured for a 1970 documentary and was digitized and produced in HD. This film, only available on Disney+, will be presented at the senior center in (3) parts of 2+ hours on the following dates: part 2 on Monday January 24 at 10:30 am, and; Part 3 Monday, January 31 at 10:30 a.m. Join us for the experience of watching this never-before-seen footage of the world's most famous band as they create an album and perform their latest live performance on the roof of their recording studio in London. Please register in advance.
JANUARY MOVIES
The theme for our December movies is "Staff Favorites!" Please pre-register for any or all of the following films which air Thursdays at 1:00 p.m.:
January 20 – 'Shawshank Redemption' – Andy Defresne is sentenced to two consecutive life sentences for the murders of his wife and her lover. However, only Andy knows he didn't commit the crimes.
January 27 – 'My cousin Vinny' – The New York lawyer (Joe Pesci) has never won a case. When his teenage cousin and a friend are framed for murder, Vinny and his girlfriend come to the rescue.
MEDITATION
Meditation is a state of deep peace that occurs when the mind is calm and quiet. Join us for our meditation classes at the senior center on Tuesdays in January from 12 p.m. to 1 p.m. Learn how to create peace of mind and go on a mini meditation vacation every day! Each class focuses on breathing, improving posture, and practicing different meditation methods, including writing your own guided meditation. In these uncertain times, you deserve moments of quiet self-reflection. The cost is $3 per class and is eligible for punch cards. Please register in advance.
BEGINNER MAH JOGG FREE GAME
Mah Jongg Free Beginner Game meets every Wednesday from 12:30pm to 1:45pm. This free beginner game is for players who are just starting to learn Mah Jongg and may want to take each game a little slower than those who have been playing for many years. year. Register in advance if you want to join us.
SENIOR SANDWICHES
On Thursdays we offer Grab and Go Senior sandwiches at the senior center. You can pick up your sandwich at the reception on Thursday at any time between 10 a.m. and 1 p.m., and you can take the sandwich with you, or you are invited to eat in the Coffee Room or on the outdoor benches. Quantities are limited, so you MUST register in advance to get your Senior Sandwich meal. There is a suggested donation of $3 to HESSCO.
MACKINAC MONDAY: HENRY FORD
Each month we will be presenting a program at the senior center associated with our trip to Mackinac Island in June 2022. These "Mackinac Mondays" will take place at 2 p.m. on the last Monday of each month through April. Programs are open to everyone, but may be of particular interest to our Mackinac Island travelers. On Monday, January 31 at 2 p.m., our program will be a Henry Ford documentary. Henry Ford has been described as "America's most influential innovator". This documentary will look into the life of Henry Ford and our Mackinac Travelers will spend time at the Henry Ford Museum in Dearborn, Michigan. Register to reserve your spot.