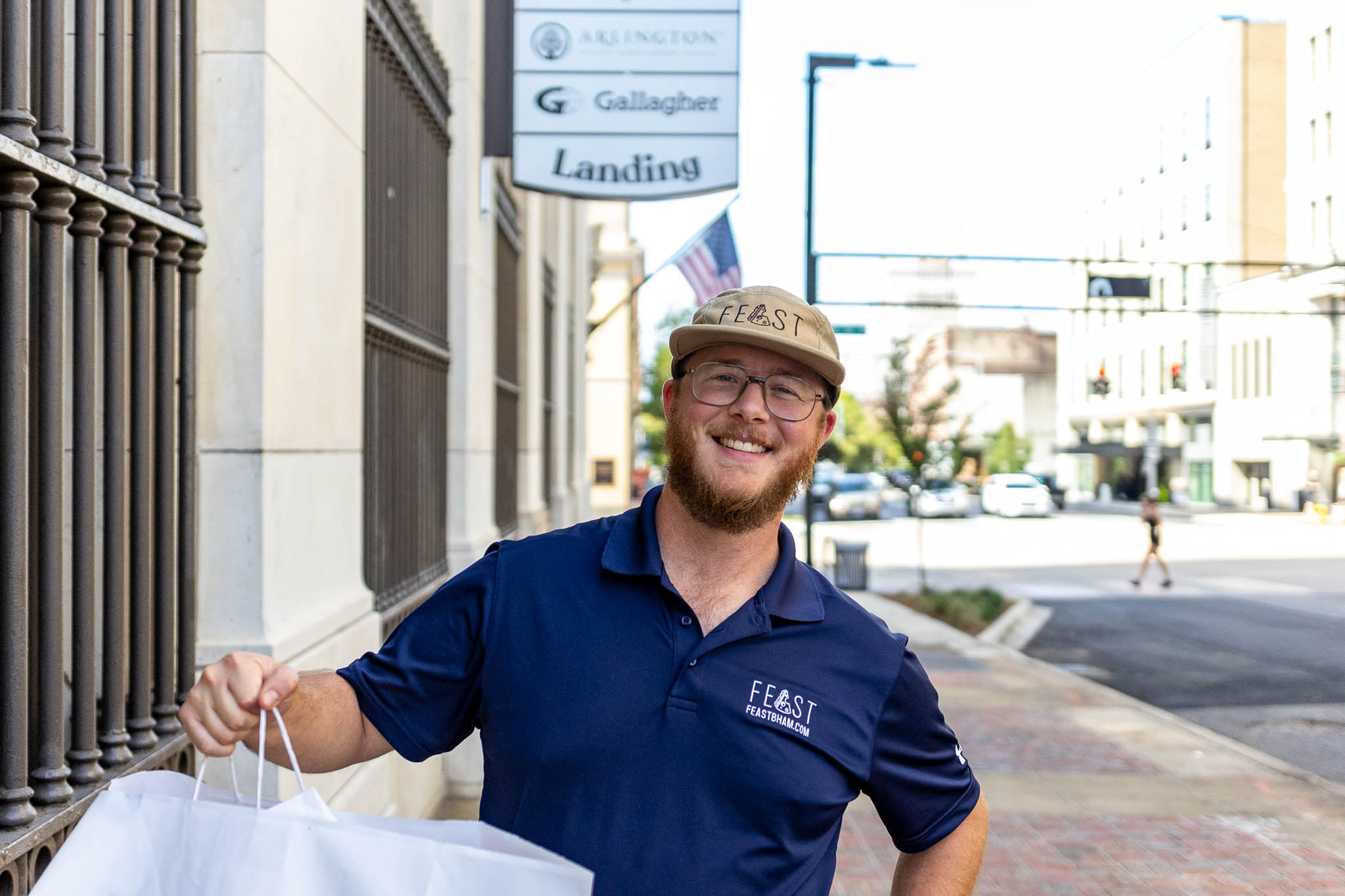 Dining in Birmingham Made Easy – Dishes from 15+ Restaurants Delivered to Your Meeting
Reading time 3 minutes
Sponsored
If you've ever been tasked with feeding a hungry group, you know it's no easy task. Fortunately, picky appetites, dietary needs, and busy schedules are no match for Feast: Birmingham's dining connector that connects busy people to the city's best restaurants. Find out why Feast will make your job easier… and your crew happier.
Busy customers ❤️ Party
Want to know how useful Feast is? Meet Allyson Harris, a busy local who relies on Feast to feed her hungry team during business meetings. As Executive Assistant to the Information Director at BBVA / PNC, she is responsible for feeding a group of over 100 people.
Before I discovered Feast, catering meetings felt like a full-time job in and of itself. Now Allyson has time to focus on whatever she needs to do, without having to memorize restaurant phone numbers, coordinate food pickup and other chores. Plus, Allyson told us that Feast's platform has a variety of eateries so his team won't get bored with the same old-same-old.
"I jumped at the chance because trying to find places to order twice a week for 8 months was difficult to say the least. Brett and the Feast team got it where I don't think about who / where.

With the conversion of our systems, we have had a lot (and I mean a lot) of onsite (social distance) meetings over the past 3 months. It doesn't matter if it's a group of 10 or 100+, a call or text to Brett, and he can make it happen. I know he will make sure that special dietary needs are taken care of and that everything goes well and on time.

Allyson Harris, BBVA / PNC, Executive Assistant to the Chief Information Officer
Sounds like a big move for your business? Register to join Feast today.
Want to save time and feed your hungry teammates? Here's how. ??
Want a taste of how Feast works?
Enter your zip code to see which restaurants are available.
Choose your restaurant from many delicious options.
Select your dishes, date and time, then place your order.
The party takes care of the rest, from coordinating with restaurants to dropping off your delicious meals.
"Knowing that the Feast team will always respond with a smile and a 'will do' attitude makes my job so much easier. It doesn't matter if I plan 2 weeks or a Saturday afternoon for Monday morning. Brett and his team are still on it and I know they will do the job right.

Allyson Harris, BBVA / PNC, Executive Assistant to the Chief Information Officer
If you've ever had the dreaded "What's for dinner?" Moment, you know it's even harder to feed a large group. That's why this Birmingham Catering Connector is a win-win solution for everyone.
"The past year and a half has been stressful at all healthcare facilities, and UAB Callahan Eye Hospital & Clinics appreciates Feast for their help in providing meals to our surgical staff during this difficult time. Seeing the community rallying around our essential healthcare workers has made the pandemic a little easier, and we are grateful for the services Feast has provided. "

Amanda Swan, UAB Callahan Eye Hospital & Clinics, project coordinator
Feast makes it easier to support local restaurateurs
Need another reason to love Feast? They are just as passionate as you are about supporting local restaurants. The founders of Feast, Brett Ables and Erin Hill, have spent years in the restaurant industry. Thanks to their experience, they know the ins and outs of working with restaurants.
"The restaurant industry continues to struggle with a labor shortage and supply chain issues. At the same time, customers are coming back in waves. More than ever, innovation is needed to allow customers to have the level of convenience they need without stressing out the amazing staff at every restaurant.

Many partner restaurants have told me they turn off their third-party delivery during peak hours because they can't handle the volume, and some of our favorite restaurants are even closing their lobbies to focus only on food. to take away. Restaurants and customers need more solutions, and they need them now. That's why Feast will be rolling out several new features in the coming months to solve more issues for our partner restaurants and allow us to serve even more customers.

Brett Ables, Feast, Co-Founder and CEO
Want to save time with this new Birmingham catering connector? To be continued on Facebook and Instagram or contact 205.335.1000. More, see which of your favorite restaurants is already registered.
Sponsored by: