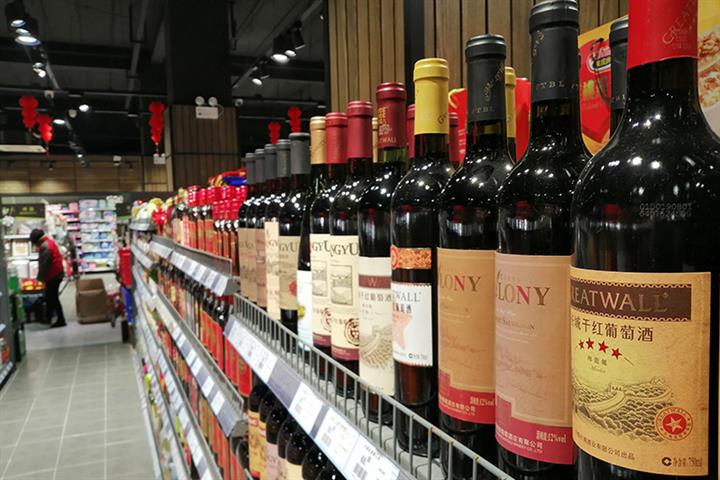 Chinese wine market remains weak despite high season
(Yicai Global) September 21 — China's wine market remained sluggish during the peak Mid-Autumn Festival and National Day season, in part because the impact of the Covid-19 outbreak has limited demand, Yicai Global has learned.
"Sales are even weaker than last year," a distributor of Yantai Changyu Pioneer Wine, a well-known Chinese wine producer, told Yicai Global, local wine demand has been shrinking for four consecutive years.
The local restaurant industry is still suffering from the impact of nationwide epidemics that have forced businesses to suspend operations frequently this year, leading to increased wine inventories and reduced wine sales, he said. he adds.
Business activities and gatherings have fallen sharply this year due to the Covid-19 outbreak, said Wang Wei, a wine importer in Tianjin, northern China. Wine sales around the Mid-Autumn Festival and National Day holidays are expected to drop more than 30 percent from previous years, he said, adding that he had started selling other more popular alcoholic products, including craft beer and Moutai-flavored liquors, to offset losses in the wine market.
Weak demand in the wine market is systemic, Yang Zhengjian, dean of the WBO Wine Business School, told Yicai Global. The wine market is likely to remain weak until the first half of next year.
In response to underperforming sales, Changyu reduced the annual sales target by up to 50 percent for some distributors in areas severely affected by the epidemic, the distributor noted.
To maintain a healthy inventory and improve financial performance, Changyu will adjust sales tasks in certain markets and accelerate a series of reforms, such as focusing on mid- to high-end products, restructuring the sales division and transforming of its business, rather than getting growth by squeezing distributors, Sun Jian, the company's general manager, told Yicai Global.
Five of the 12 listed wine companies reported revenue growth in the first half of the year, and only four reported profit growth. Except for industry leader Changyu, other companies performed poorly. Revenues at Dynasty Fine Wines Group fell 44%, with net profits at Citic Guoan Wine, Grace Wine Holdings and Xinjiang Yizhu Wine plunging between 60% and more than 70%.
Editors: Tang Shihua, Futura Costaglione