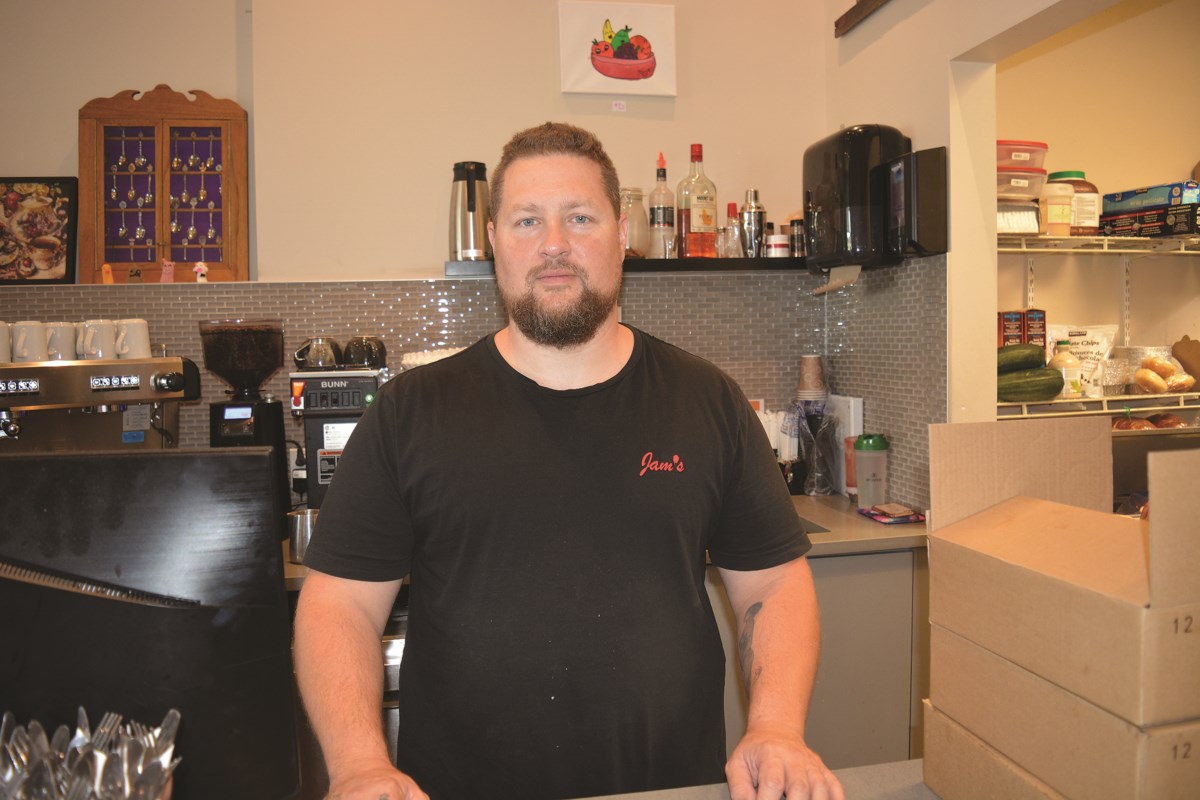 Best of Airdrie: Hearty, Homemade Dishes Always in the Spotlight at Jam's Restaurant
[ad_1]
Breakfast is the name of the game at Jam's Restaurant, where almost everything on the menu, including jam, hot sauce, and honey, is made from scratch.
Breakfast is the name of the game at Jam's Restaurant, where almost everything on the menu – including jam, hot sauce, and honey – is made from scratch.
"Nothing comes out of a frozen bag," said Brad Stefaniuk, the restaurant owner, who has worked in the hospitality industry for 26 years.
The objective is to satisfy customers with home-made and hearty dishes that offer a unique touch to the morning meal.
"We do everything. You never leave here hungry, "Stefaniuk said, adding that all the sausages are homemade, with dried back bacon and freshly grated potatoes.
Stefaniuk is proud of the menu he created with his two decades of experience as a chef, although he explained that customers are sometimes hesitant to step out of the box and try something new when they visit Jam's. .
"They're a little confused because things are a little different – too many people are used to Denny's and Cora's and Eggs Oasis," he said. "Everyone just opens a bag of potatoes and toss them in a deep fryer."
The culinary creativity Stefaniuk injected into each dish paid off, however, as members of the community awarded him gold in the breakfast category of the Airdrie city view 2021 Best of Airdrie Readers' Choice Awards.
Jam's also won bronze in the brunch category of the competition.
"I was super happy for the gold, because I was really angry last year when I was beaten by A&W," he said.
Navigation hasn't always been smooth for Stefaniuk and his team, who were forced to close their doors just three months after the business opened, due to the start of the COVID-19 pandemic.
"It trampled on us," he admitted.
Despite the challenges the company has faced since then, Stefaniuk said he was grateful for the support of his staff during the turbulent times. His sous chef, in particular, presented an idea that would allow the abundance of food to be used, while supporting the community in times of need.
"We had a 15-course dinner for $ 15, just to get rid of the food," he said. "[My sous-chef] came up with a menu with what we already had, we put it together and it was successful enough that we did it the following week, and the following week.
Without the need for servers and a declining profit margin during extended periods of the pandemic, Stefaniuk and his deputy kept working while trying to respond to delivery services to push their product, which he said , did not work very well. It meant there were a lot of long days to keep her dream afloat.
"I was here everyday, because if I'm not, it closes," he said.
Stefaniuk also mentioned that he is struggling to hire and retain staff in today's environment – a talking point in the hospitality industry for months.
But now that Jam's is back to business as usual, Stefaniuk has said he's going full speed ahead.
"We never stop," he said, adding that he had been approached to open a second location in a new development, which he said turned him down when looking for ownership of origin.
When Stefaniuk has an ounce of spare time, he tends his large garden and donates a portion of the harvest to the Airdrie Food Bank. It also has a Bob's Burgers-themed promotion on Friday afternoons, with a portion of each burger's sales going to local charities.
"We hope to continue to grow and do things for the community," he said.
Jam's is located at 113, 1700 Market St. in Airdrie.
[ad_2]