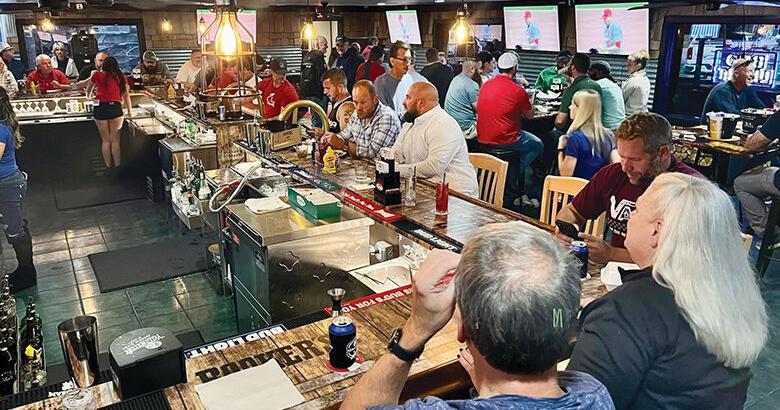 A new restaurant opens in the Iron Barley building | Company
A bar and restaurant, Johnny's Hideout, 3367 High Ridge Blvd., opened in High Ridge on September 20.
Oakville co-owner Johnny Daus said the business is named after him. The restaurant opened in the former Iron Barley, closed since March after the death of owner Tom Coghill.
Daus said the restaurant's menu includes his wings and Cajun food.
"My chicken sandwiches are great," he said. "My Buffalo Chicken Sandwich will rival anything anyone has ever had. My okra and kidney beans can be compared to anything you've had in New Orleans.
He said the restaurant also offers burgers.
"There's a burger called Johnny's Favorite," he said. The beef is accompanied by American cheese and provolone, bacon, lettuce and tomato.
"I'm not an onion guy, that's why I don't have onion on my favorite burger. I make my own homemade burger sauce, which is on the burger," Daus said.
A unique item on the menu is their fried garlic bologna sandwich.
"It's the best bologna sandwich you'll ever have, I guarantee it," he said. "We serve it on Texas toast with lettuce, tomato and cheese and I make a homemade deli sauce that we put on it."
The restaurant also offers Smokey D's, which used to be a small barbecue restaurant at 4561 Gravois Road in House Springs. Daus said Smokey D owner Daryl Gilfillan rents space in the kitchen and customers can order his barbecue.
"We kind of combined his menu with my menu," Daus said. "He has a signature 26-ounce pork steak that will knock your socks off. It's amazing.
Daus said the restaurant was packed on opening day and had a steady stream of customers.
"(Opening day) was very hectic, but we got through it."
Daus said the business has a game room, televisions and a patio that seats 40 people. He plans to build on a back patio.
"We can accommodate 85 people inside," he said.
Daus has over 35 years experience in the restaurant industry and said he was excited to open a business in High Ridge.
He said one of the co-owners, Jacob Kaestner, lives in High Ridge and suggested the location.
"When they told me about High Ridge, I thought it might be an untapped market for my Cajun food," Daus said.
Daus said his other co-owner is Rick Pogue.
Daus said he has hired 40 employees so far and will eventually hire a total of 50 to 60 employees once the back patio opens.
He said Johnny's Hideout is open 11 a.m. to 1:30 a.m. Tuesday through Saturday and 11 a.m. to midnight on Sunday.